If you are looking to enter the Betaflight ecosphere in the smoothest possible way, we are here to help!
We have rounded up 5 of the most underserved and useful questions about Betaflight with a goal to answer them in the most helpful way!
What is Betaflight?
Betaflight is a software application that is designed to run on a drone flight controller. It is primarily aimed at multicopters and its main purpose is to control all of the functions of the drone, such as:
Reading all of the sensor values, such as the gyro and accelerometer.
Sending and receive data to the operator's radio via the onboard radio receiver module.
Communicating with the electronic speed controls and control the RPM of all motors.
Calculating the required changes in motor RPM in order that the drone responds to operator inputs.
Monitoring the battery voltage and ESC temperature.
Receiving a signal from the pilot camera and overlay instrumentation before sending it to the video transmitter.
Changing flight modes depending on the input from the operator.
Controlling accessories such as camera and video transmitter settings based upon inputs from the operator.
Read the data from a GPS module and execute an automated flight back to base when rescue mode is activated.
These are just a few functions that can be performed by Betaflight and there are many other things that it can be configured to do.
There are two main parts to the Betaflight application that we can take a look at in more detail.
Betaflight part 1: the drone firmware
The first part of the software is to be loaded on to a tiny computer called the flight controller, which is onboard the drone.
This tiny onboard computer running Betaflight software controls every part of the drone and enables it to fly.
I can send commands to Betaflight, for example the direction I want the drone to move in, using a radio transmitter on the ground.
Betaflight part 2: the configurator software
The second part of Betaflight consists of the configurator software.
This software runs on many different types of computer, including phones and tablets.
It is designed to communicate with the firmware onboard the drone and enable the user to change settings.
We will cover the configurator later in the article.
"Are you ready to fly?"
It is also worth pointing out that Betaflight have their own summary regarding the purpose of their software.
Betaflight is flight controller software (firmware) used to fly multi-rotor craft and fixed wing craft. This fork differs from Baseflight and Cleanflight in that it focuses on flight performance, leading-edge feature additions, and wide target support.

– betaflight.com
They explain here that their software differs from some other examples.
These aforementioned examples are actually historical versions of the software, as Betaflight is actually a continuation of the older flight controller software CleanFlight.
For some further reading on this topic, check out this section of this article.
Is Betaflight free?
Yes, Betaflight is completely free to download and use. It is open source and therefore free to use both commercially and privately, as well as modify and redistribute.
There are however some limitations and despite being open source and free to use, Betaflight is still governed by a licence.
Betaflight is licenced under the GNU General Public Licence, further details can be found here.
Open-source software (OSS) is computer software that is released under a license in which the copyright holder grants users the rights to use, study, change, and distribute the software and its source code to anyone and for any purpose.

– Wikipedia
Which Betaflight do I need?
You will need the latest and most up to date version of Betaflight Configurator.
Once downloaded and installed on your chosen platform, you can use it to flash the correct version of Betaflight to your drone by selecting the flight controller target.
The most common choice would be to download Betaflight Configurator for Mac, Linux or Windows from GitHub.
However there are also third party versions available for mobile devices and Android platforms, more on that later.
If you are unfamiliar with GitHub, version control and open source software it can be a little confusing to try and find the right version of Betaflight!
As previously mentioned, Betaflight is open source and the project is managed on GitHub.
Where can I download Betaflight?
You will find all of the necessary downloads on the Betaflight GitHub page.
Head on over to the GitHub page for Betaflight Configurator, then locate the latest release on the right-hand menu.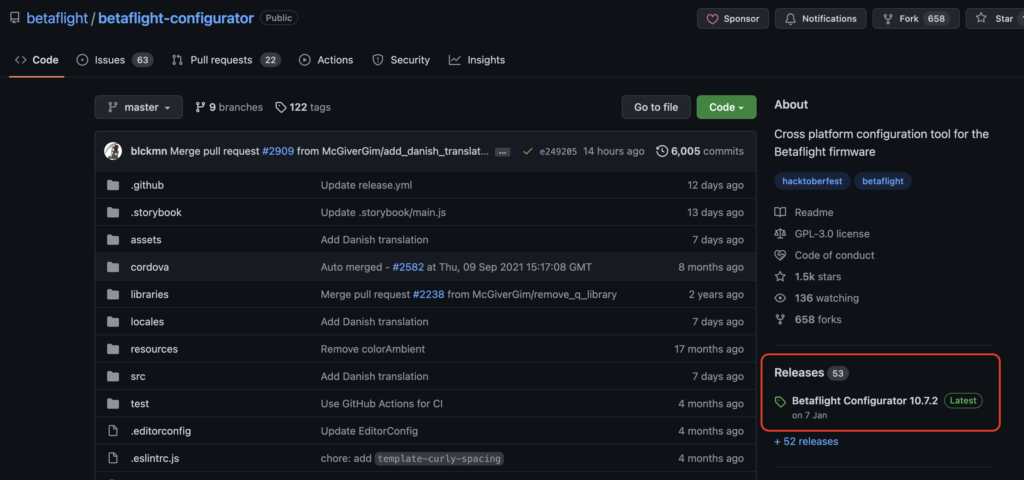 This will take you to a page for the latest release of Betaflight Configurator. This is the version that you need.

Click to download the version of Betaflight Configurator for your prefered operating system:
x86_64.rpm – Linux Red Hat
win32.exe – Windows
amd64.deb – Linux Debian
linux64.zip – Linux
macOS.dmg – Mac OS
What is Betaflight Configurator?
We talked a little bit about the configurator already and if you just read the previous section, you may even be downloading it already.
But what actually is the Betaflight Configurator, besides a tool to load the firmware on to the drone?
The configurator is the control center for Betaflight. It is computer software targeted at many different platforms, including the ones mentioned above?
When first installing the Configurator, it is possible to flash a new flight controller or update an existing flight controller with the Betaflight firmware.
Once the firmware is flashed on to the drone flight controller, the configurator can be used to configure any of the parameters using either a GUI or command line interface.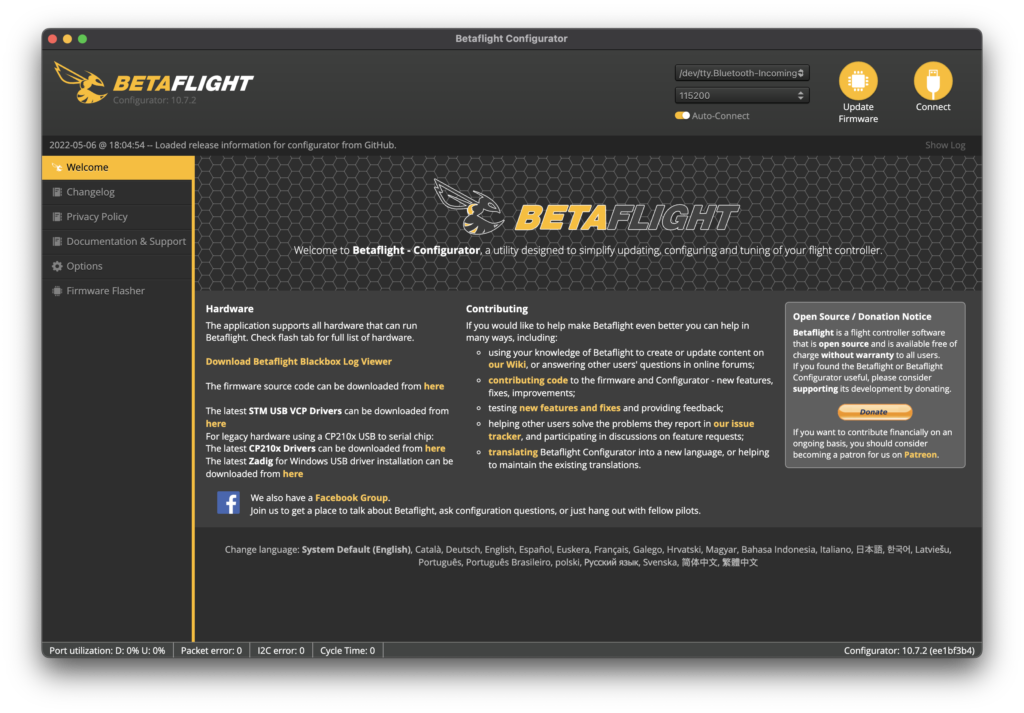 Can you use Betaflight Configurator on iOS?
Yes you can configure Betaflight with iOS! There is a third party version of the configurator made by the very reputable company SpeedyBee.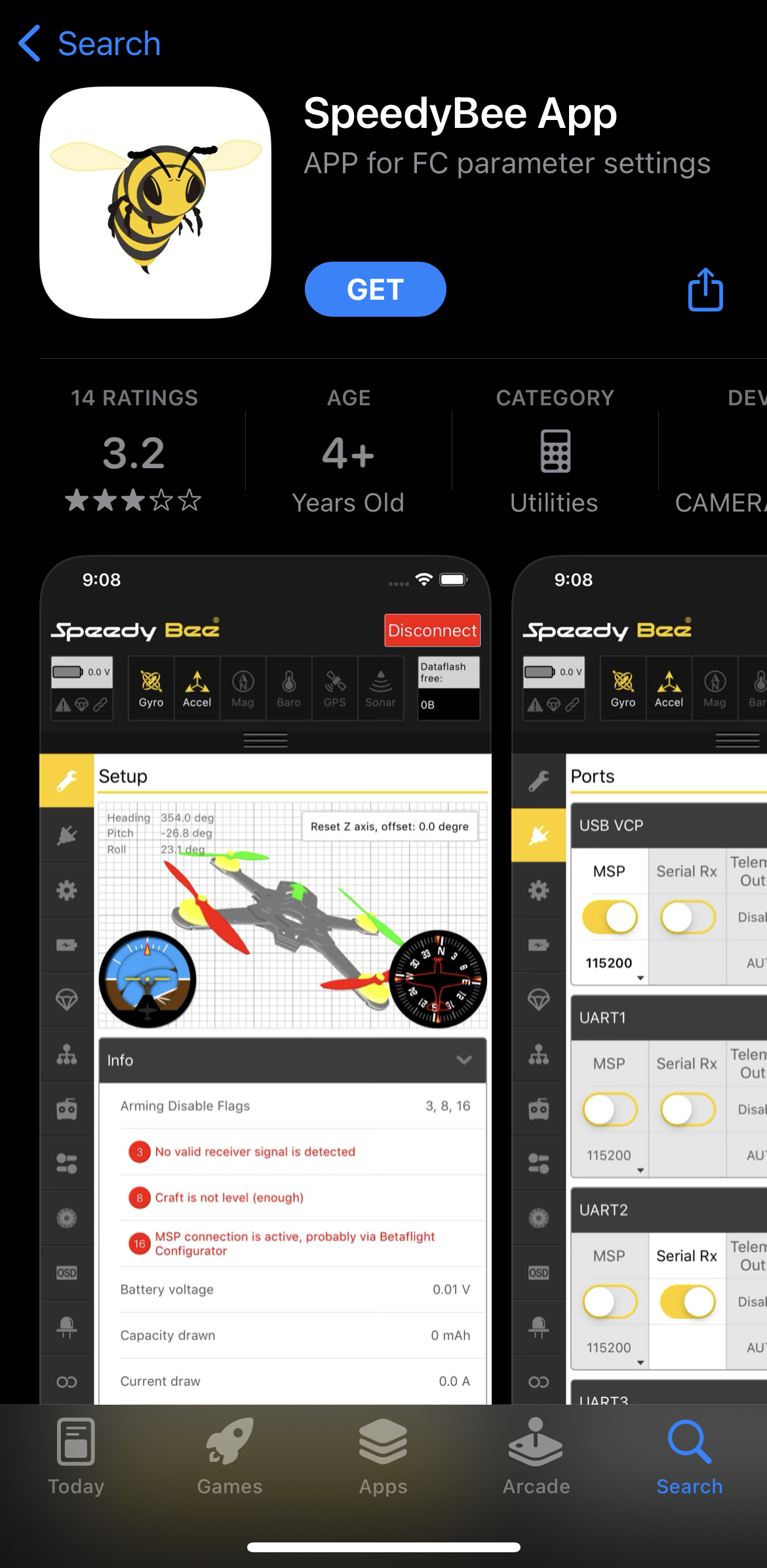 The app works on both iOS and Android and is free to download and use and can be connected to your flight controller using the SpeedyBee adapter cable.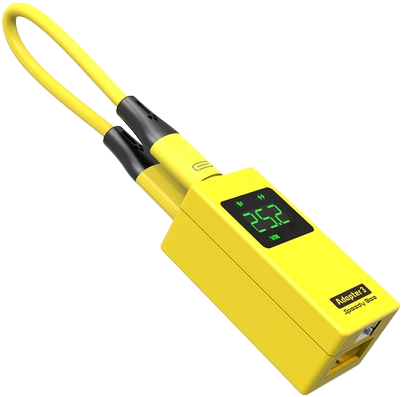 This adapter also adds the ability to actually flash the firmware to the flight controller!
However if you have a compatible SpeedBee flight controller, such as the SpeedyBee V3, the app links directly to the flight controller, nothing more needed!
Can you use Betaflight on Android?
Yes you can configure Betaflight with iOS! There are several third party options available for Android, including SpeedyBee, which we discussed earlier.
Can you use Betaflight on Chromebook?
Yes there is a version of Betaflight Configurator available exclusively for ChromeOS.
It is available to download from the Play Store.
Please note that this is maintained by a third party developer and may not be kept up to date.
Conclusion
Betaflight is a fantastic and feature rich offering for your flight controller.
You should now have a clear idea about which Betaflight you need, for which platform and where to get it.
If you have not already begun to download it, go ahead and get started!
While you download, why not check out some of our other Betaflight articles!