TBS Crossfire is a fantastic choice for your FPV radio link and it is likely that you will be using the TBS Nano Rx in one or even many FPV builds!
However for both newcomers and experienced builders, the wiring can get a little confusing without a good reference.
If you are using TBS Nano Diversity Receiver, check out this guide instead.
In this guide we will look at common ways to wire the TBS Nano receiver. I will also provide some clear diagram and channel mapping references that you can use to simplify your build.
If you are using TBS Crossfire, don't forget to bookmark this page (control + D) so that you can refer back to the diagrams on this page.
If you are just looking for a quick reference wiring diagram / pinout to aid you with a build, check out the wiring overview.
Prerequisite
This guide aims to help you understand some of the many various configuration options available for the TBS Nano receiver.
You will need a TBS Nano receiver and one of the compatible Crossfire transmitter modules.
Whether you are new to the TBS Crossfire ecosphere or you already have a good understanding, there is some good information here worth checking out too!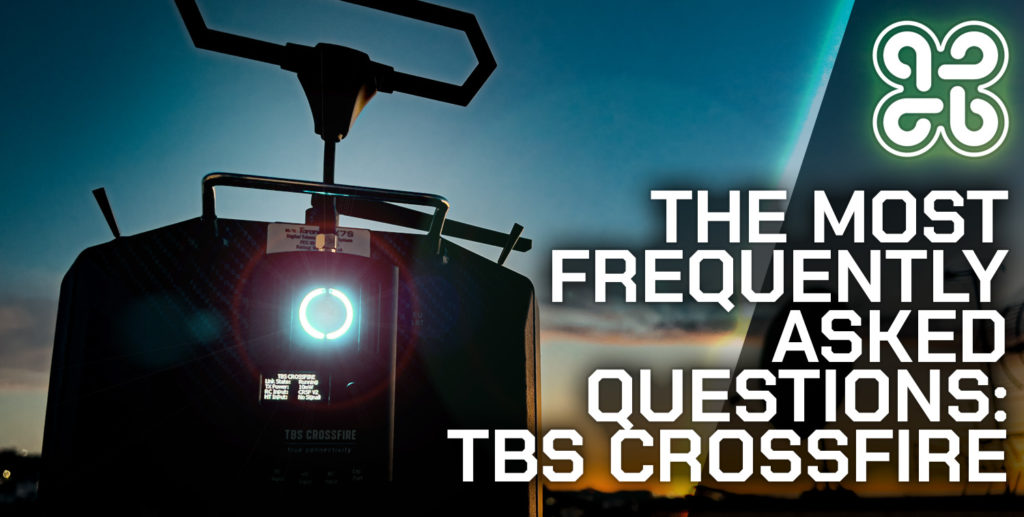 TBS Nano Receiver Wiring Overview
The following reference diagrams are for the TBS Nano receiver and aim to provide a clear reference to assist in your build.
You can also consult the TBS Crossfire manual and TBS Nano quickstart guide for further information.
TBS Nano Pinout
The following diagram shows the pinout for the TBS Nano. It shows the available functions for each pin.
This diagram is designed to be used as an easy reference when wiring the receiver. Some functions are duplicated and in these cases you can choose whatever pin you prefer to use.

TBS Nano Channel Mapping
The following table shows the various functions that are available for each channel on the TBS Nano receiver.
In order to choose the function that you want to operate on a particular pin, use the channel mapping menu accessible from your TBS Crossfire transmitter module (either Lua script or OLED display on the full sized Crossfire).
You can sort the table by clicking the column headers. For example if you wish to connect CRSF Tx, simply click the header to sort the table and show all suitable pins at the top.
You can also scroll the table left and right to reveal all of the functions. The table shows which functions are compatible with each pin.
Receiver
Pin
PWM
PPM
CRSF
Rx
CRSF
Tx
SBUS
inv.
SBUS
n.inv.
MAVLink
Rx
MAVLink
Tx
RSSI
LQ
RSSI/
LQ
DSMX
Smart
Audio
BST
SCL
BST
SDA
Ch. 1
✅
✅
✅
✅
✅
✅
✅
✅
✅
✅
✅
Ch. 2
✅
✅
✅
✅
✅
✅
Ch. 3
✅
✅
✅
✅
✅
✅
Ch. 4
✅
✅
✅
✅
✅
✅
✅
✅
✅
✅
Ch. 5
✅
✅
✅
✅
✅
Ch. 6
✅
✅
✅
✅
✅
TBS Nano Typical Wiring Diagram
The following diagram shows typical wiring between TBS Nano Rx, a flight controller and TBS Pro Nano video transmitter.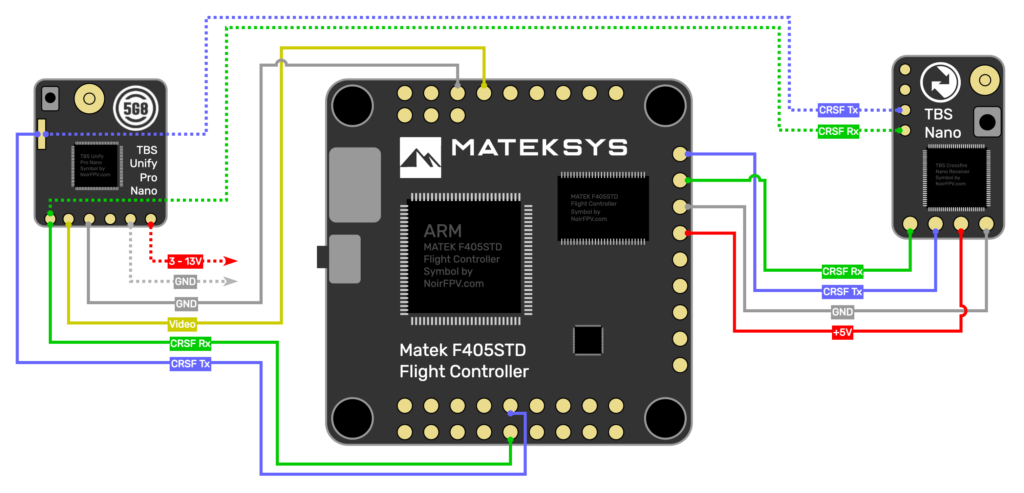 CRSF and Video Transmitters (TBS Fusion)
If you are planning to use a TBS video transmitter (VTx), such as the Unify Pro Nano shown in the diagram, you have two options for wiring:
CRSF Tx and CRSF Rx from the VTx can be wired to a spare UART (serial port) on the flight controller. This allows data to be passed between the Unify and Crossfire system via the flight controller.
CRSF Tx and CRSF Rx can be wired directly to an additional UART on the TBS Nano receiver for direct communication between the receiver and the VTx (shown above with the dotted line).
When your TBS gear onboard the drone is connected using the CRSF, it allows for some awesome additional functionality.
For example, if you are using TBS Fusion as your video receiver (VRx) then it is possible to use CRSF to synchronize the video settings automatically between the VTx and VRx.
Antenna Configuration
The TBS Nano receiver has a single antenna connector that you can use to attach various different types of antenna.
The placement of the antenna very much depends on which antenna you wish to use. Some examples of the most common antenna choices for an FPV quad are as follows.
For more information on how to choose the best antenna for your FPV drone, I have a section about it in the ultimate Crossfire FAQ.
How To Mount TBS Nano Antenna on an FPV drone
If you are flying short to medium range and plan to be racing or doing FPV freestyle, antenna durability is probably of greater concern than range.
For this type of flying you will rarely encounter a loss of control link. Video reception is usually more of an issue.
I won't go too deep into the science of antenna placement as I do not believe it is necessary when using the TBS Nano in most circumstances.
It becomes more important to consider antenna placement when flying ultra long range, however it would then also be worth considering the TBS Nano Diversity receiver instead.
Here are some tips for mounting your antenna:
Keep the antenna away from propellers where possible. If the antenna can be bent into a prop during a crash, it can get slashed quite badly.
Add protection to antennas that can be caught up in props during a crash. Foam and shrink tube work well for this.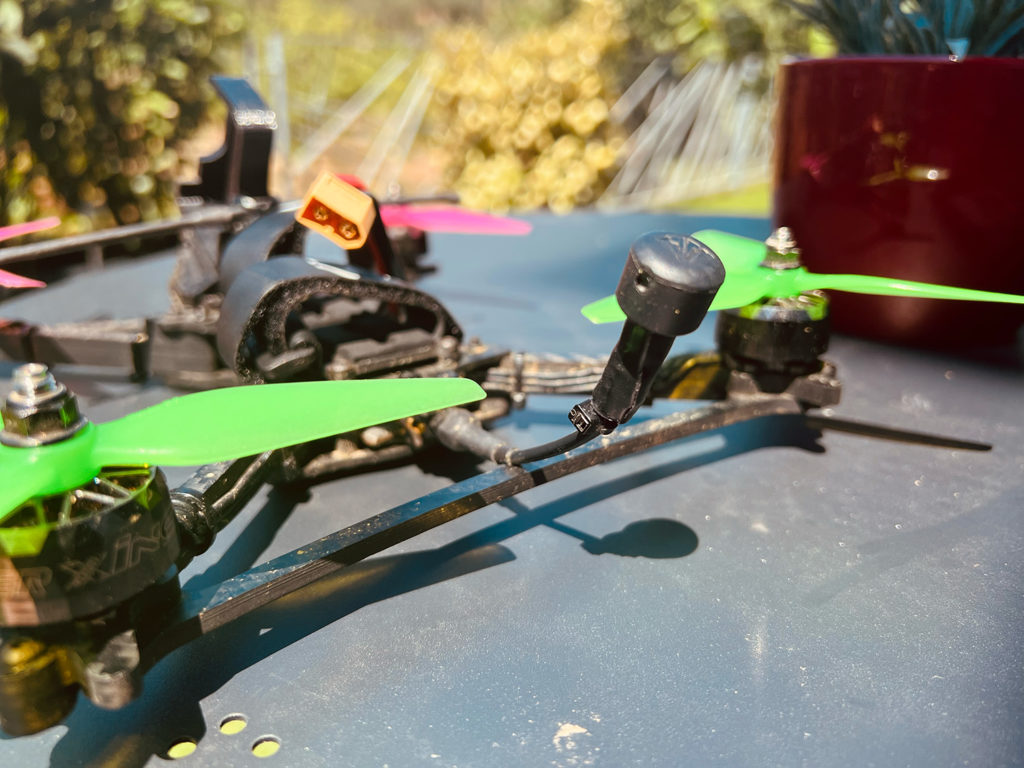 Mounting the antenna upright will give the best result, however it is not always practical or easy to achieve. Mounting the antenna flat will work perfectly well when flying short and medium distance.
Keep the antenna away from carbon fibre as much as possible and note that carbon fibre can block line of sight.
Try and keep the antenna away from 'noisy' components, such as motors, ESCs and other antennas.
Mount the antenna on something 3D printed (non-metal / non-carbon). If you don't have a dedicated mount, the GoPro mount can work well.
Use cable tie offcuts to strengthen antenna. Affix in place with shrink tube. Works great on the Immortal-T.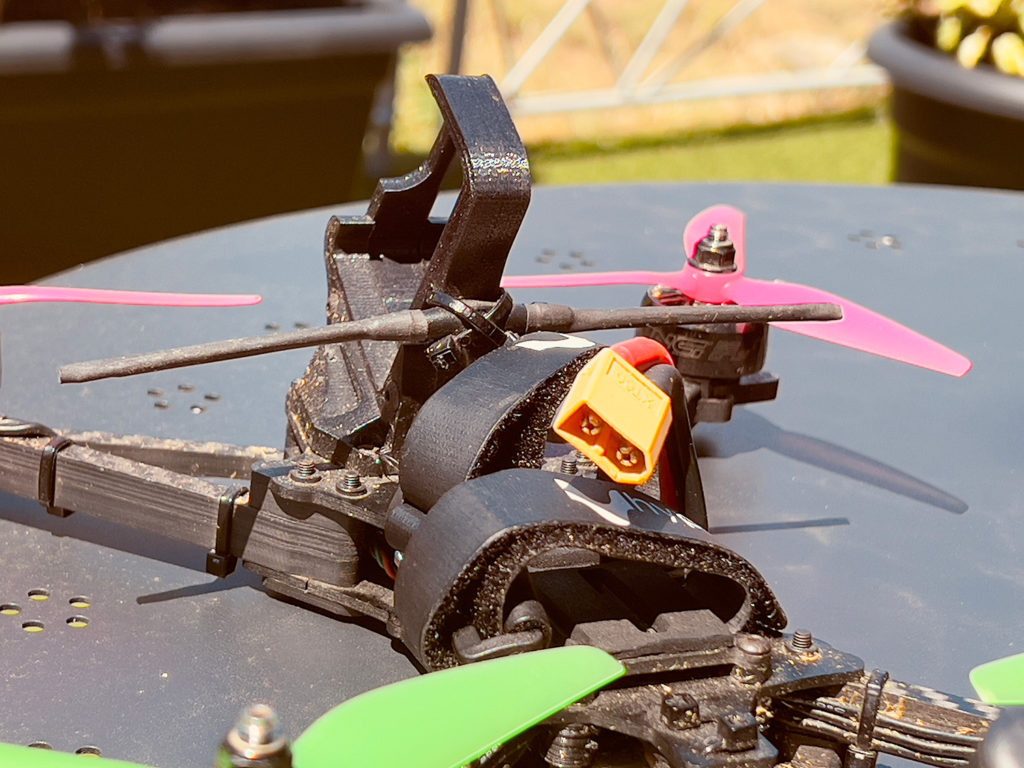 External References