ISDT are undoubtedly at the forefront of drone battery charging but when it comes to deciding which one is right it can be very confusing!
Perhaps you also noticed that there are a whole host of different models available with all sorts of different features.
For quick answers, skip to the quick selection table.
It can be totally confusing to try and decide which charger is right for you and which one is good value.
I should know, I was recently confused myself when trying to choose my first ISDT charger!
ISDT Smart Charger Comparison Table
In order to make the process of choosing the correct charger easier, I have compiled a comparison table that allows the main features to be easily compared.
You can check out my ISDT Feature Comparison Table here, which opens in a new window.

More advanced users and those who know what they need will be able to use this table to quickly determine the correct model of charger.
However if the information in this table seems confusing, don't fear! This article is supplementary to to the table and will help you choose the correct model.
How To Use The ISDT Feature Comparison Table
The ISDT Feature Comparison Table focuses on the most important attributes that would aid in choosing the correct charger.
A description of each parameter is as follows:
Model
This is the model name of the particular charger.
AC Input
If a voltage range is specified here, the charger can be plugged into the mains without the need for an additional power supply.
ISDT chargers that do support mains power will operate globally on both 110VAC and 240VAC.
DC Input
If a voltage range is specified here, the charger can be powered from a DC power supply.
Either a larger battery within the correct voltage range or an AC to DC power adapter can be used.
Note that an AC to DC power adapter with adequate power must be used, such as the SP2417. You can check the price of this PSU here on Amazon.
Number of Channels
The number charging channels. Most ISDT chargers can charge either one or two batteries simultaneously.
LiPo Min and LiPo Max
The minimum and maximum number of LiPo cells that the charger can handle.
Most commonly 1S to 6S is possible, which will be ideal for most as 4S and 6S will likely be the most common choice of battery.
Some of the newer chargers can now handle 8S, which may future proof your purchase if the industry goes towards 8S as the new standard.
Max Total Charge Current and Power
The maximum number of Amps and Watts that the charger can supply in total, for both charging and discharging where appropriate.
A higher current and power will mean the charger can charge faster, so long as the battery can support it.
The values are given for all charging channels combined as the maximum values for a single channel can sometimes be higher.
For example if a charger can handle 20A per channel but only 35A in total, it is not possible to charge two packs at 20A as this would exceed the maximum rating.
Note that chargers which support AC and DC power inputs usually support higher power when used with a DC supply.
In this case the higher values were given. Both values are given on the manufacturer website for the particular model.
Dimensions
The dimensions are given as L x W x H.
To make size comparison between models easier I have provided the longest edge as length in each case.
Weight is also given, which can be useful if you are planning on travelling with the charger.
App & Wireless
Denotes which model of charger supports wireless connection to the mobile phone app.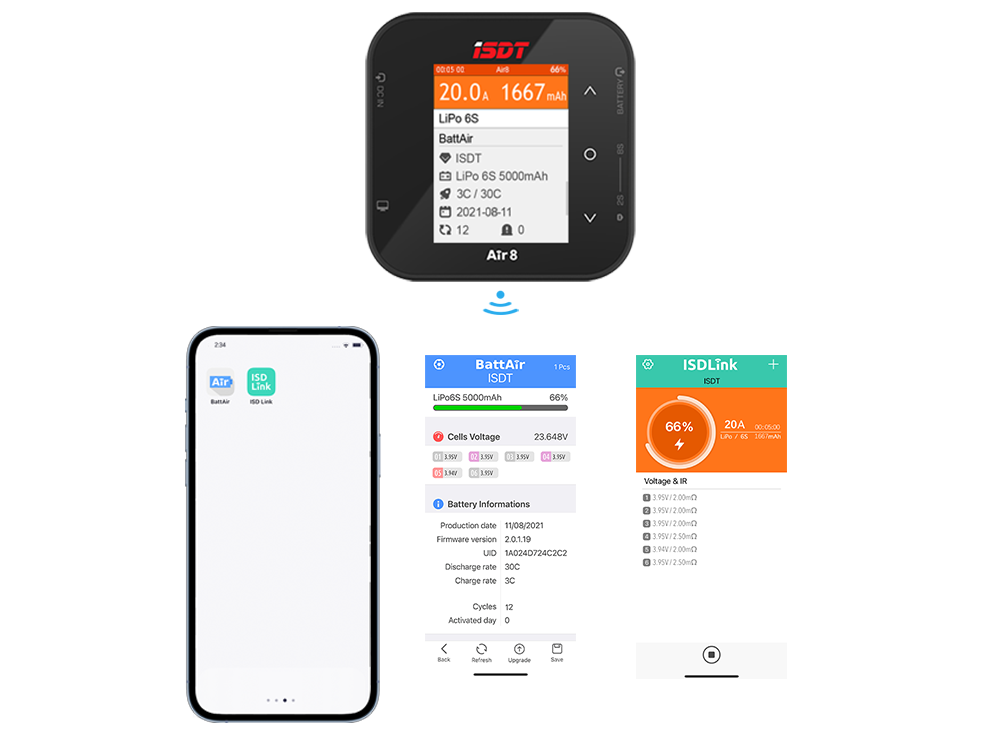 Which ISDT Charger Should I Buy?
Perhaps looking at a wall of statistics is not your thing and you would prefer to get a quick answer, get a charger ordered and get the hell out and fly!
Chargers are not like goggles, we don't use them when we are actually flying so as long as the job of charging is done we are happy. Chargers do not directly affect our flying experience.
In the real world dare I say that most RC chargers get the job done in adequate time. Reliability, value for money and real world functionality are probably the most important things.
We can dramatically narrow down the ISDT range by asking the following questions:
Do I need an AC mains power input on my charger?
Do I need a DC power input for field charging?
Do I want to be able to charge 2 batteries at once or just a single pack?
Will I be charging 7S or 8S packs?
Will I be charging 1S packs?
Do you want the functionality of a mobile app?
If you can answer these question then you can probably narrow down the selection to just a couple of options at most. Then you can make a decision based upon price and availability.
Once you have answered those questions, you can use the following simplified table to choose the most suitable ISDT charger.
ISDT Charger Quick Selection Table
The following table shows a summary of the most popular ISDT chargers. Click on the model to check the latest price at Amazon:
Hopefully that helps narrow down the choices! However if you require further information, don't forget to check out the full size comparison table.