I put the Torvol Urban Carrier through the ultimate test… let's find out whether the Urban Carrier from Torvol is the right backpack for you!
The backpack size, removable compartments and removable internal pocket are some of the reasons why you should choose this backpack for your drone travels.
After much careful research, I concluded that the Urban Carrier was the best all-round backpack for moving a drone around, whether that be to the local field or to another country!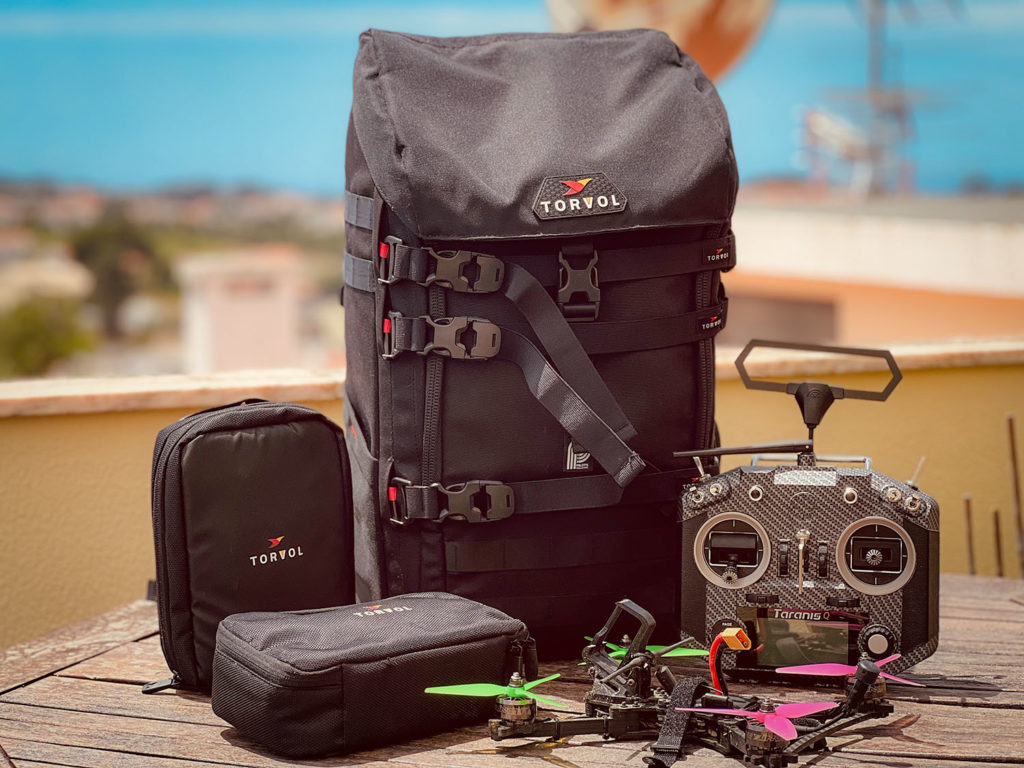 As I am currently changing countries about every other month, I am really putting this bag through a test to see how it holds up against all types of quad moving.
When I am not travelling between countries I am using my Urban Carrier to explore local spots to fly, both walking distance from my apartment and also further afield, by bus, hire car and even quad bike!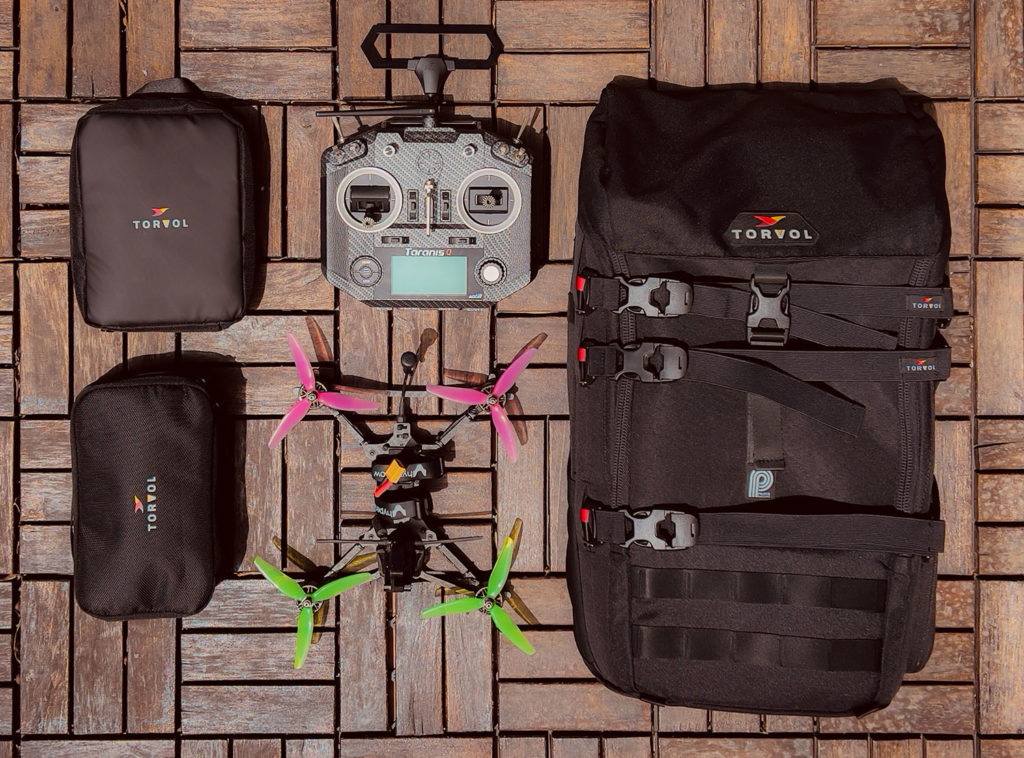 I am also using the Urban Carrier to transport all of my drone gear and other technical equipment between countries.
I have hauled this bag through various airports whilst carrying my 5-inch drone, goggles, transmitter, Lipo batteries and a whole host of other stuff!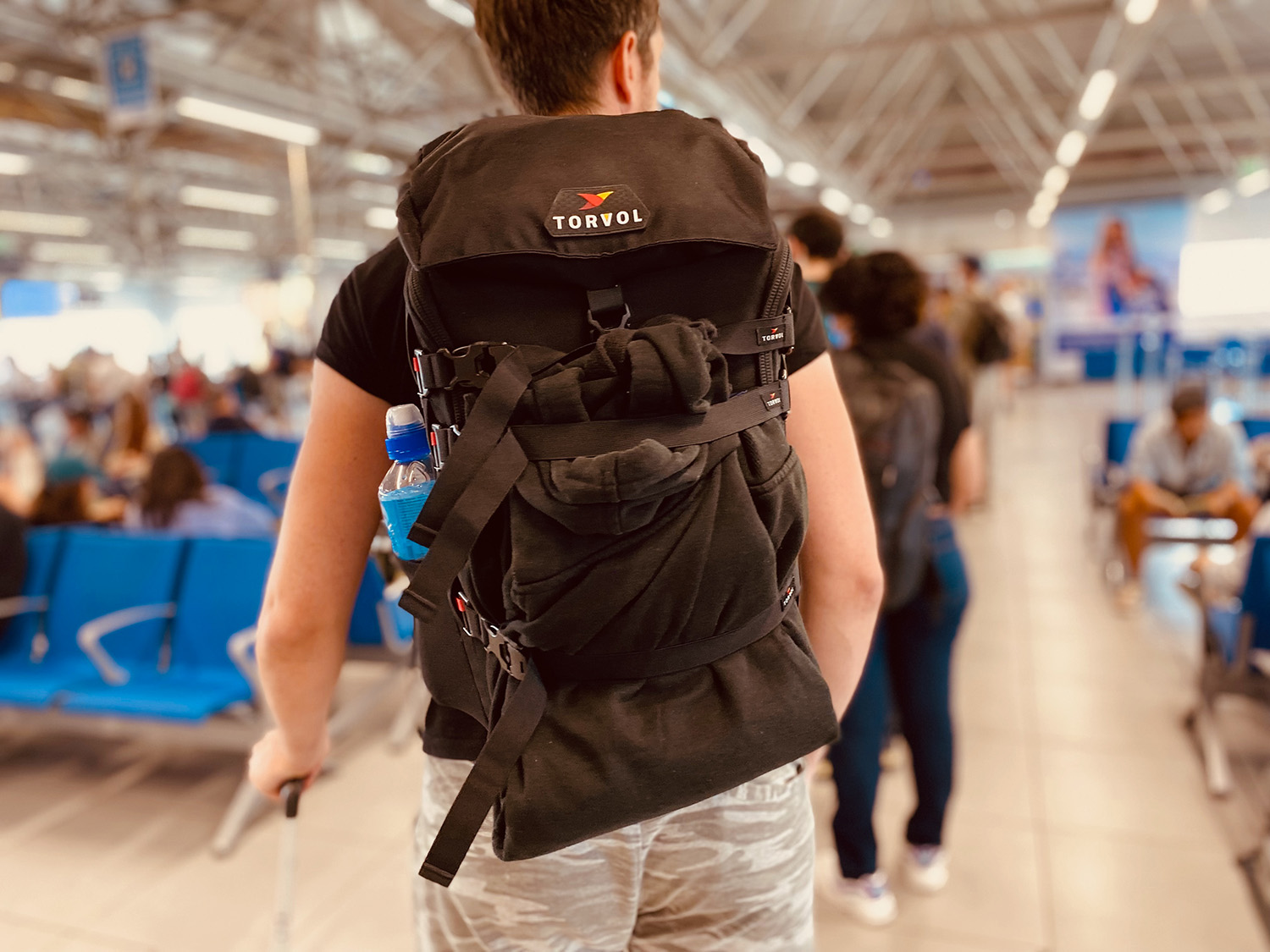 I am really giving this bag a tough test to see how versatile it is and so far, its doing great!
However like many things, it is not perfect. This article will be a totally honest review of the Torvol Urban Carrier Backpack.
The Design Concept
Firstly let's look at the main features of this backpack. I must say that there has been a lot of thought put into the design with regards to drone pilots.
This is not just any backpack.
The design is a collaboration between three heavyweight pilots:
The quality of the backpack feels superb, the materials used feel of a high quality as does the assembly.
My own Urban Carrier has yet to stand the test of time, however I have no major concerns about quality.
Main Backpack Storage
The stock backpack comes in two main parts, the backpack itself and the internal storage box that can be affixed inside of the backpack by means of a large portion of velcro.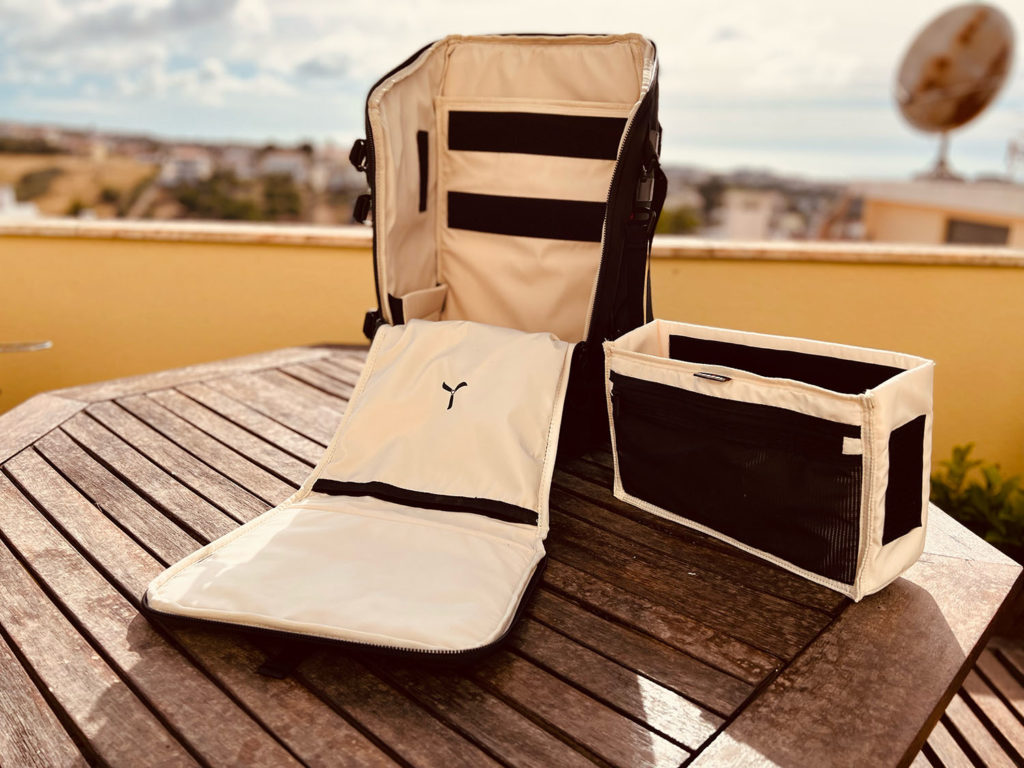 The backpack is predominantly black, although there are options for an accent of camo or blue, should you prefer it.
The interior is an off-white color and has an almost silky texture. It looks fabulous, although I am not sure how durable this will be after some years of use.
Personally I would have prefered an all black approach, not because of the style but because of durability. In any case this is only an aesthetic consideration and time will surely tell!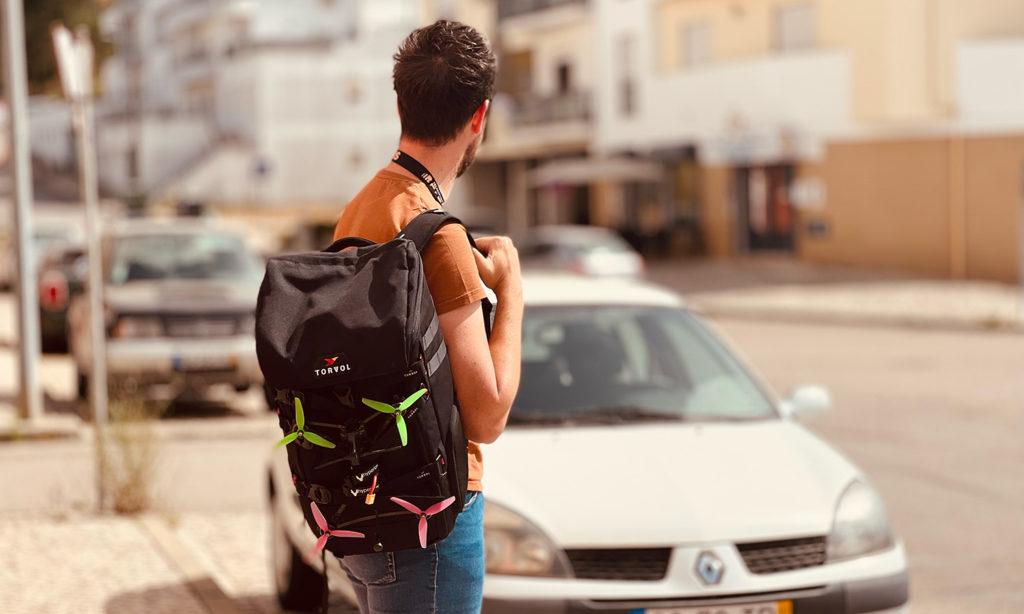 The interior has a nice level of simplicity. It feels like a minimal approach, yet is still incredibly functional.
There are two storage areas in the lower portion of the bag. Facing the bag, the left-hand is a portion of padded material that is elasticated on both sides.
Here I am storing my DJI OM5 phone gimbal and my portable soldering iron, but you could put a whole host of things there.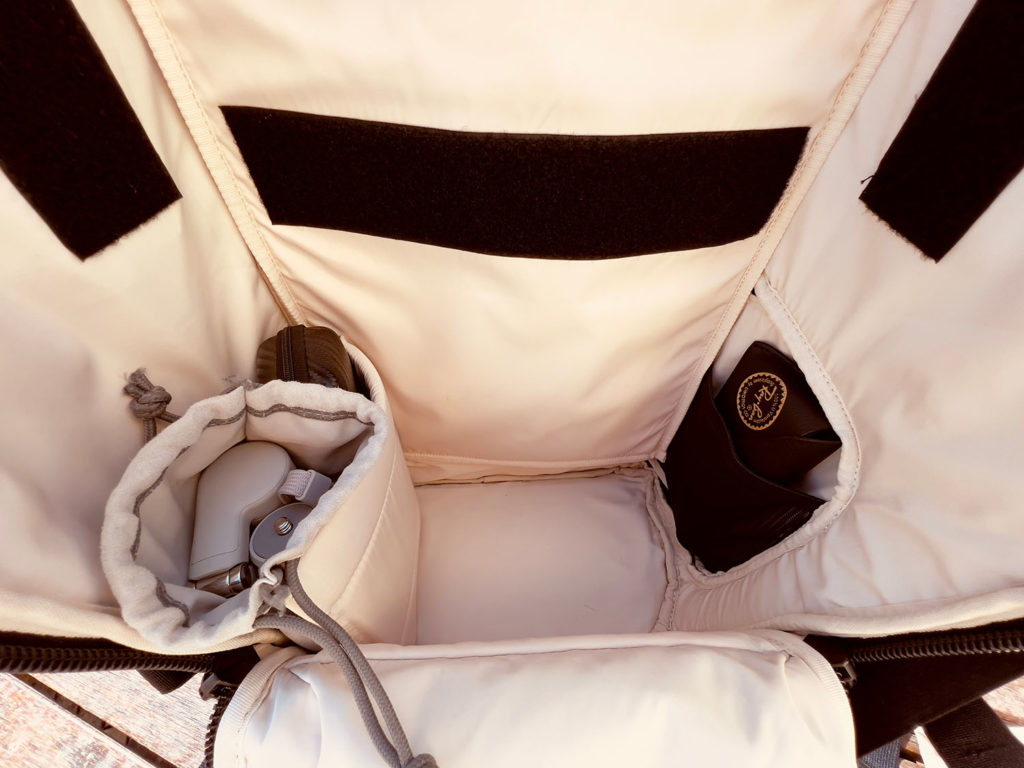 The right-hand storage area comprises of a black mesh material and has velcro to close it, although using this can be optional.
There is also an external zip that allows this section to be accessed from the outside of the bag. This is a genius feature!
I have used this pocket to store a whole host of things such as sun glasses, phone chargers, other handy USB cables, action cameras and even sunscreen!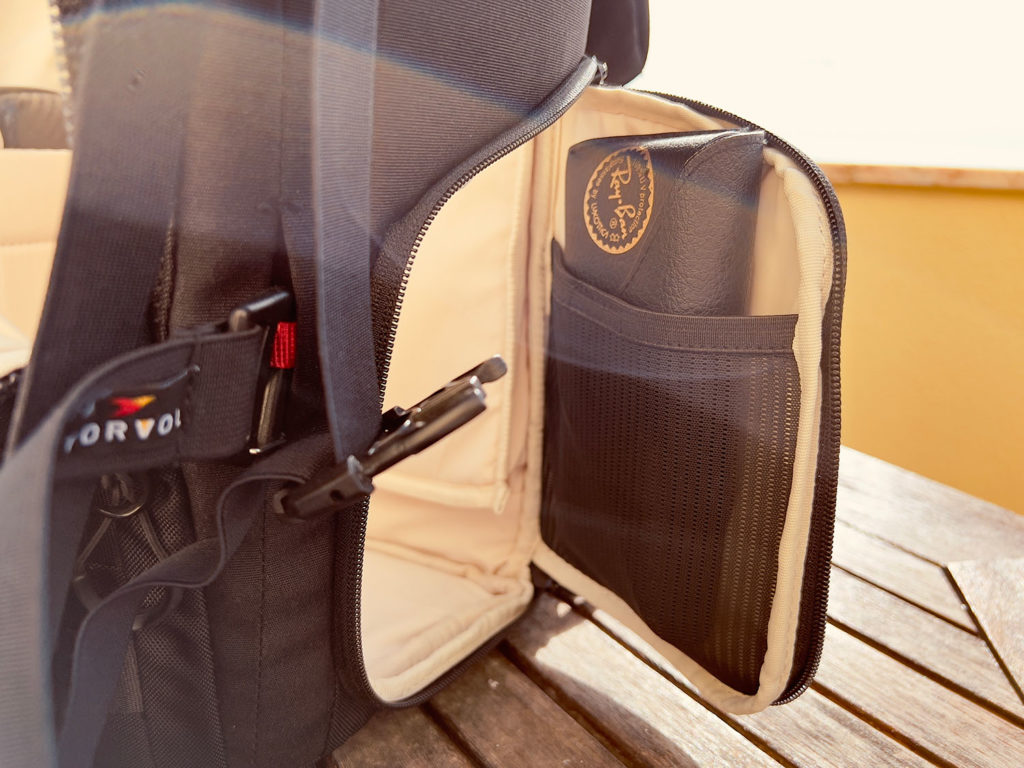 Innovative Lid Design and Sturdy Zippers
Another cool feature is the design of the lid, which has two chunky zips that unzip all the way down to the lower portion of the bag.
This is of course great for accessing things inside, but the lid can also be used as a work area, keeping the pesky grass away when you are setting up. Awesome!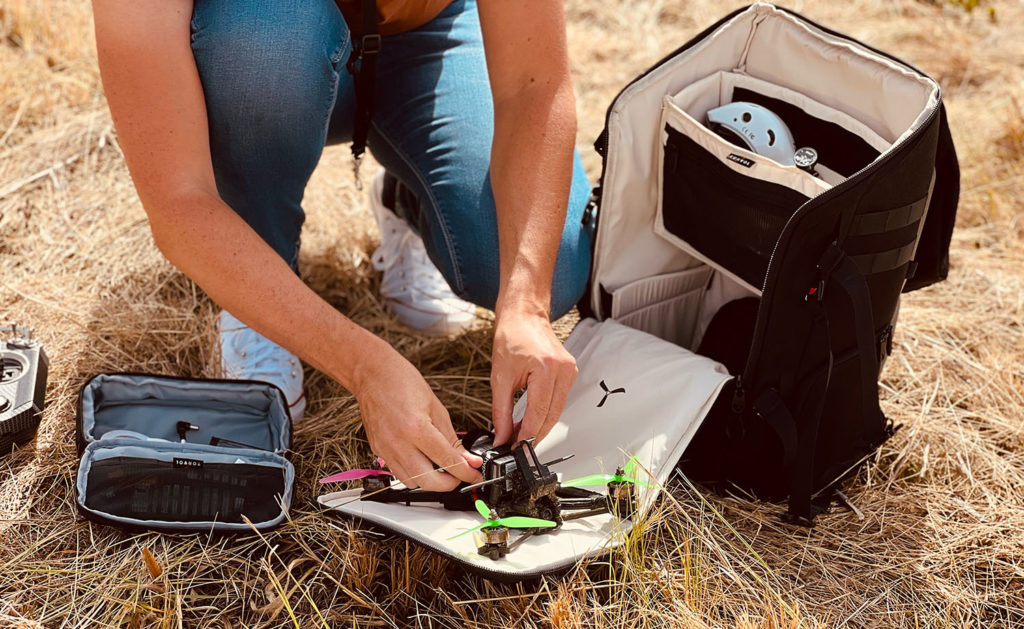 There is also a dedicated storage area for spare propellers inside of the lid, indicated by a small propellor icon, which is a very nice touch!
I do however think they missed a trick here. What I would really have liked is a pocket divided into two, so that spent/bent/broken props could be kept seperated.
It is only a minor gripe though as I just keep spent props loose so I don't forget that I mangled them!
A better solution would be to just use the Ethix Prop Organizer and one day I will remember to order one!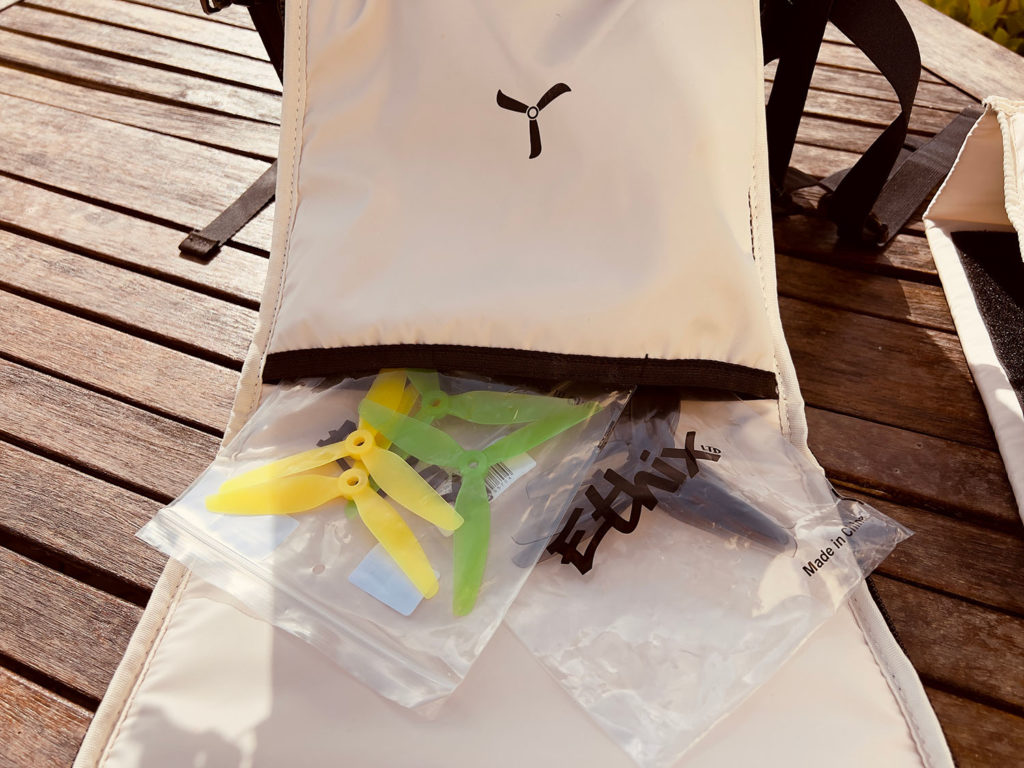 Removable Interior Storage
The removable box section is another great idea as there are times it is useful to have and times that it is useful to remove it.
As I travel a lot with this bag, sometimes I use it for non-drone related excursions.
Being able to remove the internal storage and fill the bag with clothes, a towel and bluetooth speaker makes it a great bag for a day at the beach too!
However most of the time I am using the backpack with the drone and I almost always use the internal storage, albeit in slightly different ways.
On the front of the box there is a zip pocket with black mesh material. This is great for those smaller accessories such as USB cables and memory cards.
I also keep my mini FPV screen here in case anyone wants to see what I see in the goggles.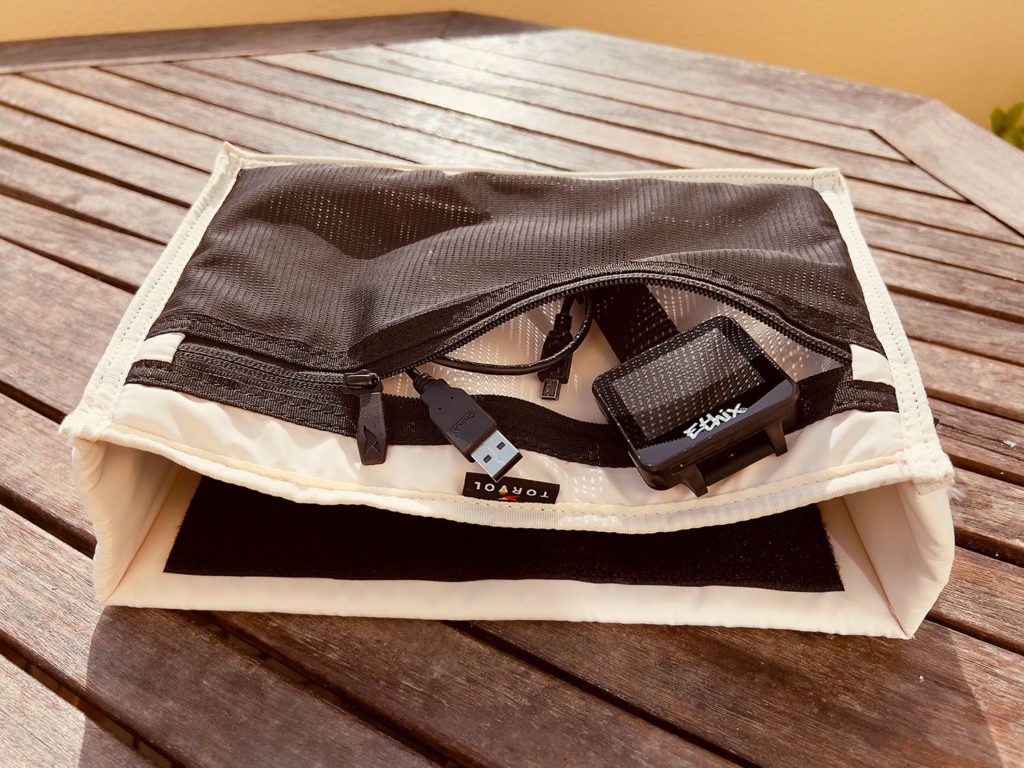 Straps and Padding
Another think that I love about this backpack is the amount of padding that is given.
I have never seen so much padding and the backpack is totally comfortable to wear!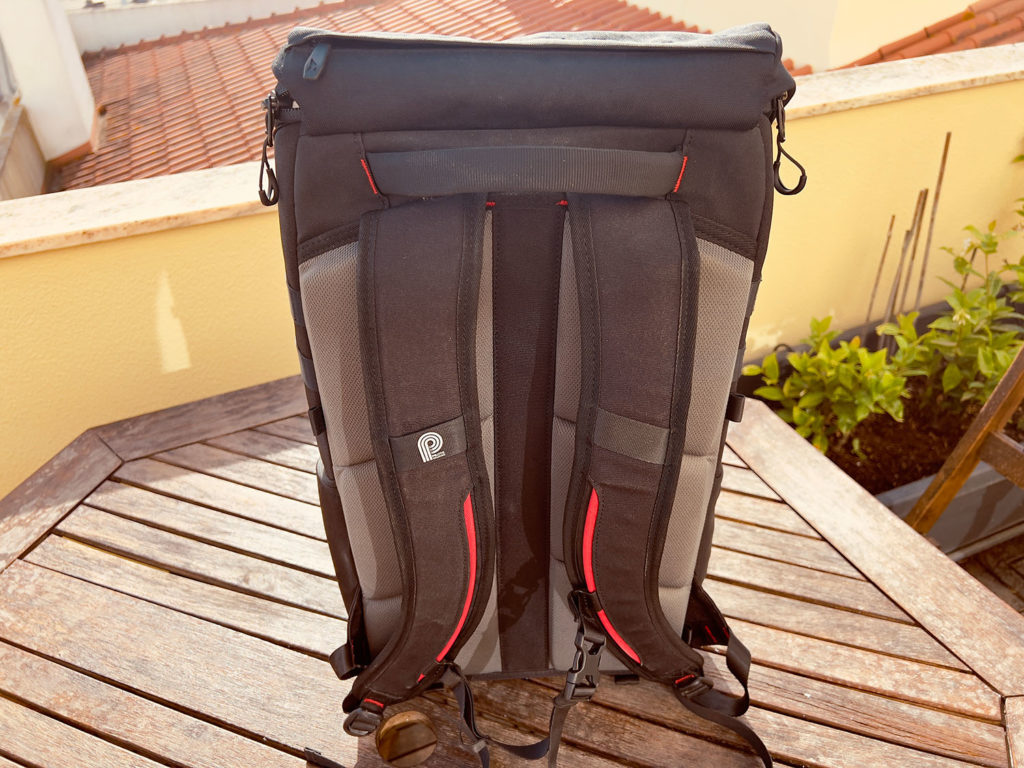 Laptop Storage
There is an internal pocket for a laptop of up to 15-inch in size, which is of course a standard offering for mostly all backpacks.
The laptop is located close to the back and I much prefer this over having the laptop on the outward side of the backpack.
The large amount of aforementioned padding really helps to reassure you that your precious laptop is safe!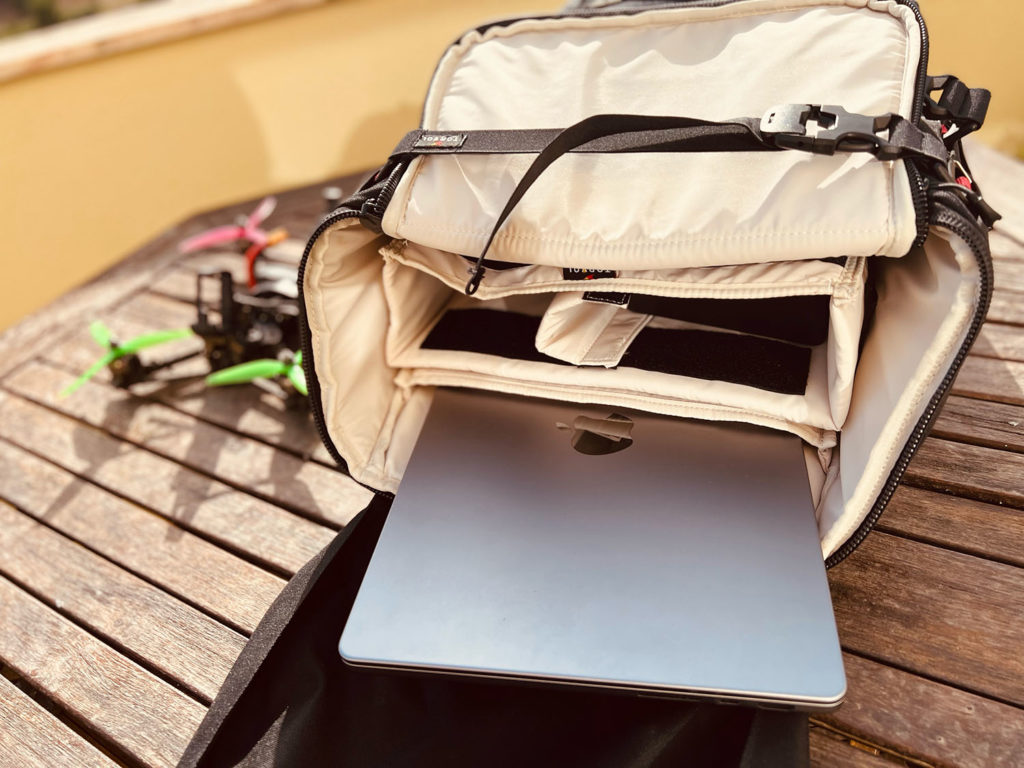 Configuring The Backpack
The main pocket can be configured in two different ways as there is a removable divider that can be placed anywhere along the length.
I use the divider when I pack everything and travel with my ISDT D2 charger.
This allows me to keep goggles in one half the charger, plus a few other things, in the other half.
When I fly locally and carry less gear, I remove the divider to make packing the goggles quicker and easier.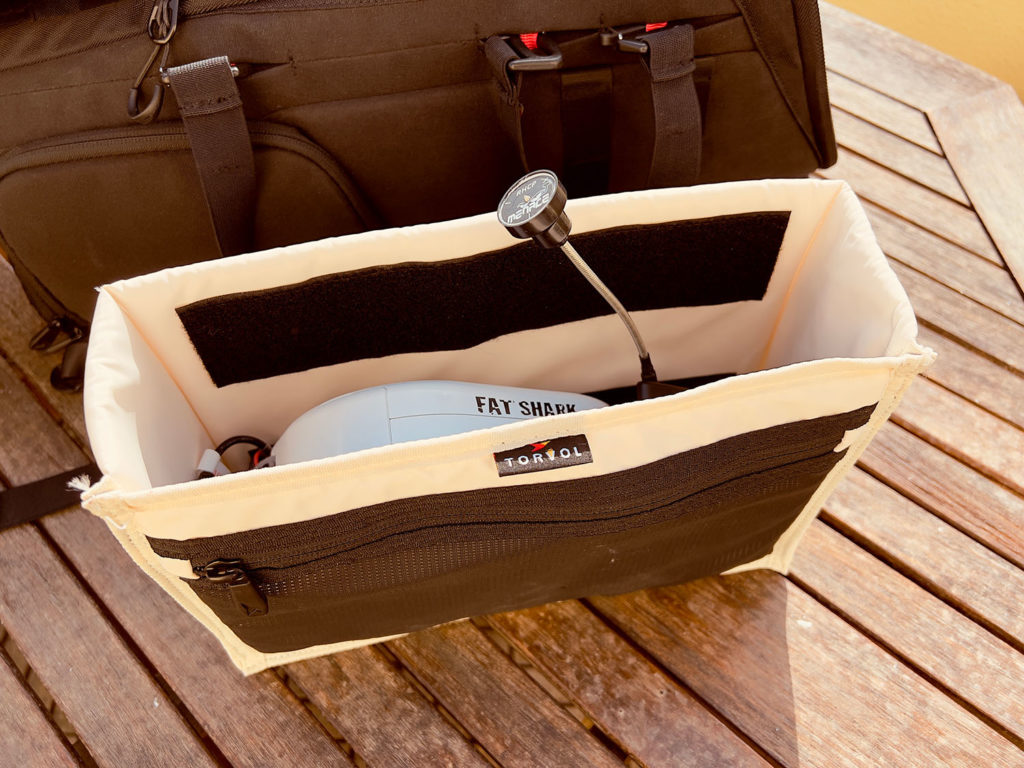 With the internal storage box mounted in the bag there is still plenty of storage space.
For flying day trips I keep my tool case and lipo case inside the bag at the bottom.
Then on top of these I put the transmitter. It sits neatly in front of the internal storage.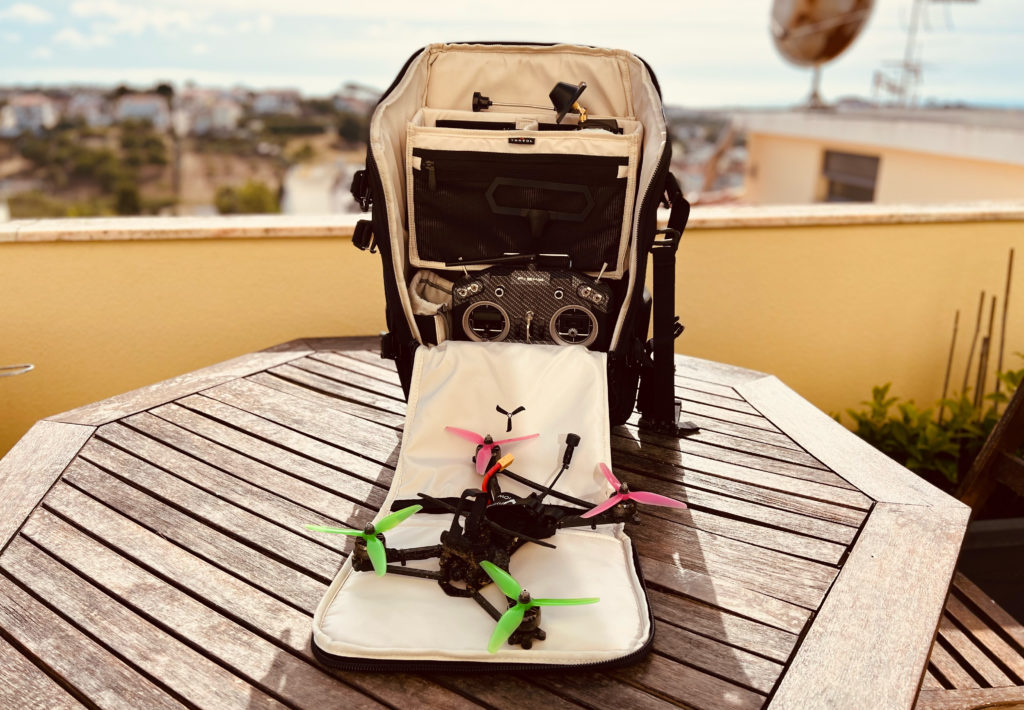 It is also possible to locate the transmitter on the very top of the bag and even fit a 5-inch drone with the props on in the front space!
When I travel between countries and haul the bag through airports I tend to remove the props and keep the drone inside of the bag, with the transmitter on top.
Removing the props makes it easier to put the drone in the bag when there is more stuff in there, such as when I travel between countries and carry a bluetooth speaker, laptop, cables and travel adapters etc.
When I am just doing a day trip I prefer to sling the drone on the front of the bag.
Mounting Drones Externally
There are three stretchy straps on the front to keep up to three 5-inch drones on the front!
These straps are also removable, should you not require them and wish to remove them.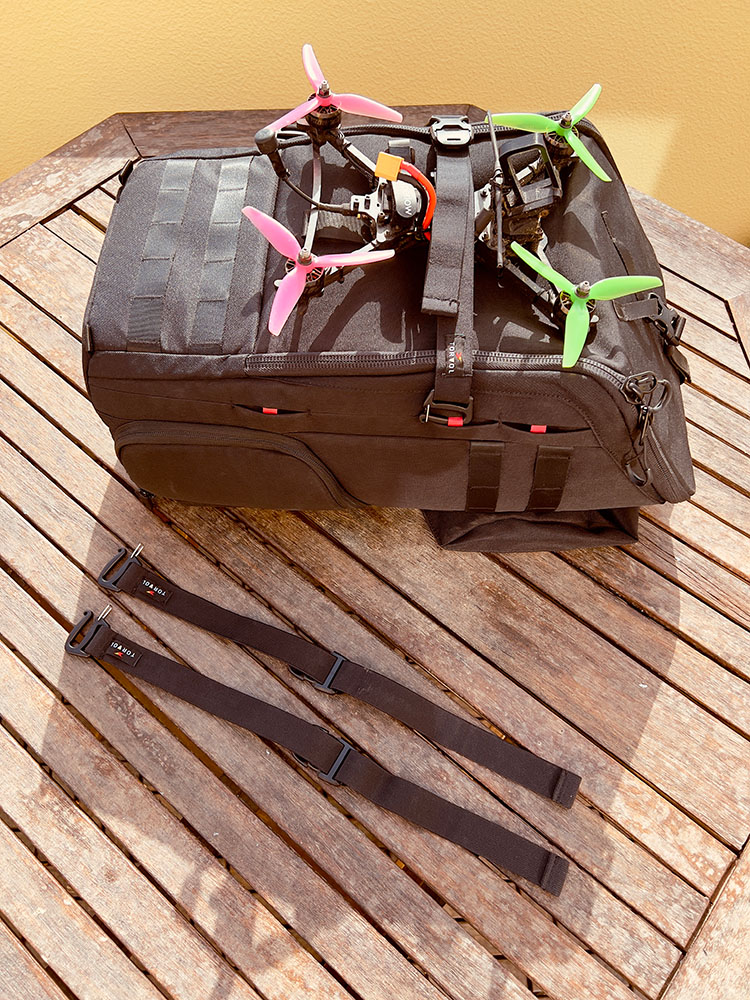 The top of the bag is strengthened and is rigid, making it easy to sit a fourth drone on top. There is an additional smaller strap here too.
The main lid of the bag can also cover a drone kept here, great to protect it or keep it out of sight.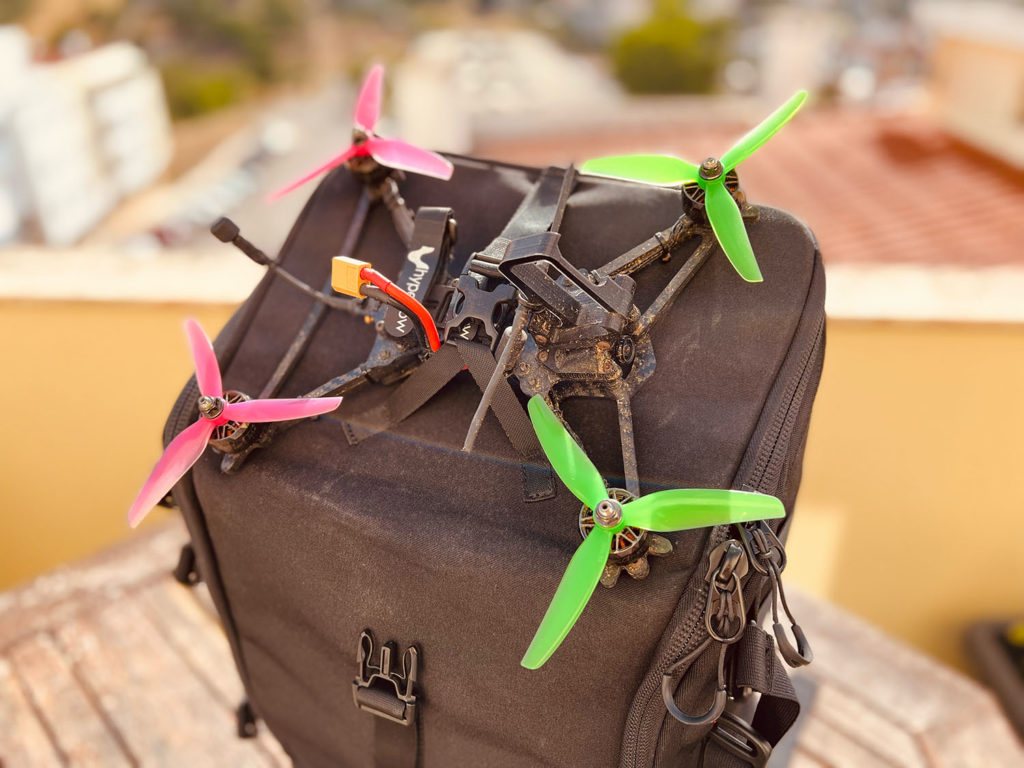 Additional Accessory Pouches
So I have covered mostly everything on the backpack itself, but wait! That is not all!
Torvol offer a range of accessory cases that are awesome in their own right! There is a tool case, Lipo storage case and general storage pouch.
The tool case is fantastic! I actually bought a second one and have migrated all of my tools into them permanently.
One has all the tools I like to have in the field and the other has the rest of my tools. This means I only need to bring one out when a day trip with the drone.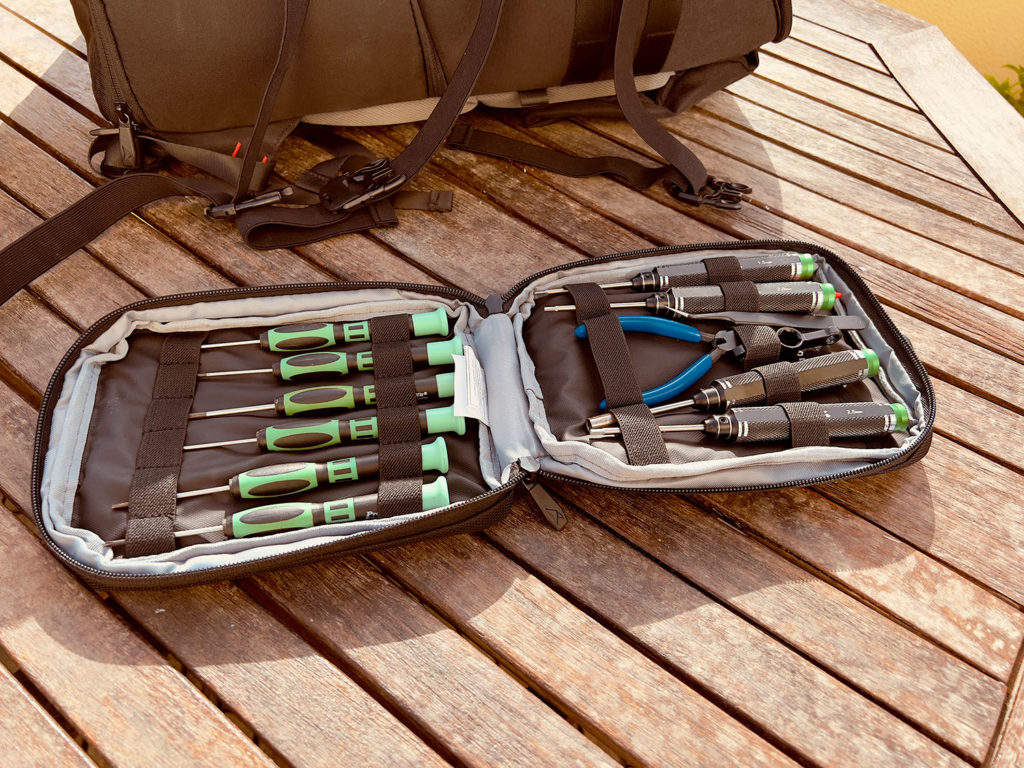 The Lipo case is also really worth having. I keep several 6S packs, a 2S pack for my goggles and 2S pack for my transmitter.
I also keep two balance boards and all of the necessary adapters for using with my charger in the velcro pocket in the lid.
The only thing I would say is that the more hardcore amongst you may find it a little small if for example you want to take more than four 6S flight packs out to the field.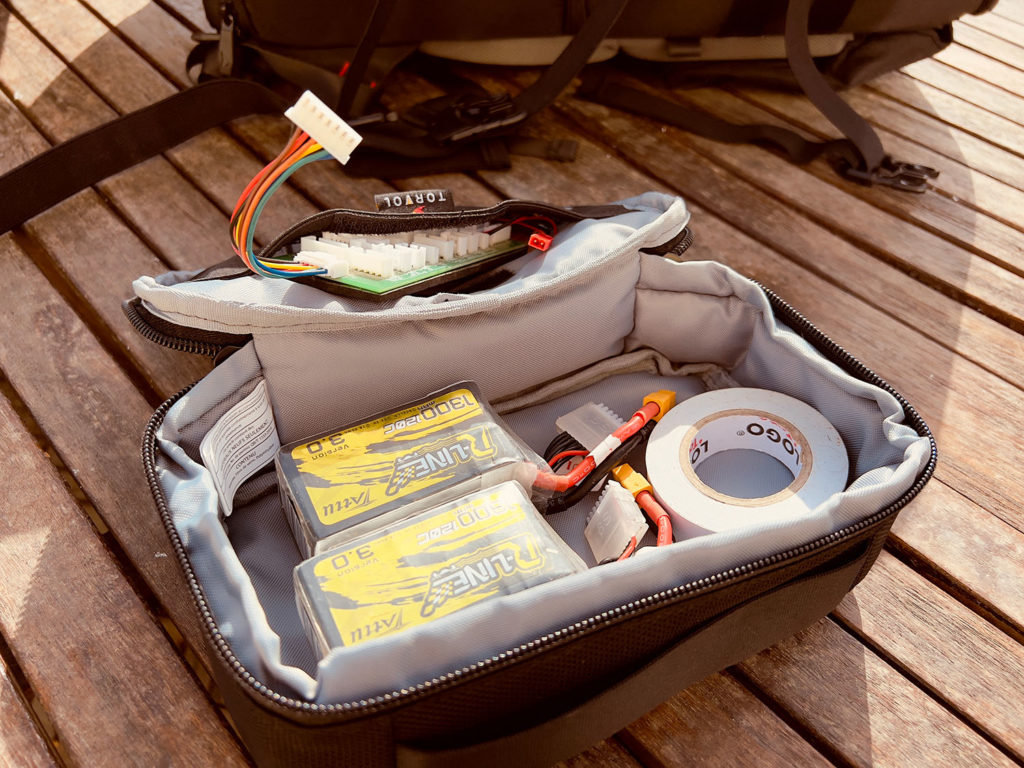 Usually I tend to keep all of these little cases within the main backpack, simply because usually I have the space. However there could be an occasion where I need more space.
For example if I want to flying and sunbathing at the beach, I am going to need space for a beach towel and bluetooth speaker in addition to my drone gear.
In this case it is possible to locate the accessory pouches on the exterior of the bag, freeing up the internal space for the flip flops and sunscreen!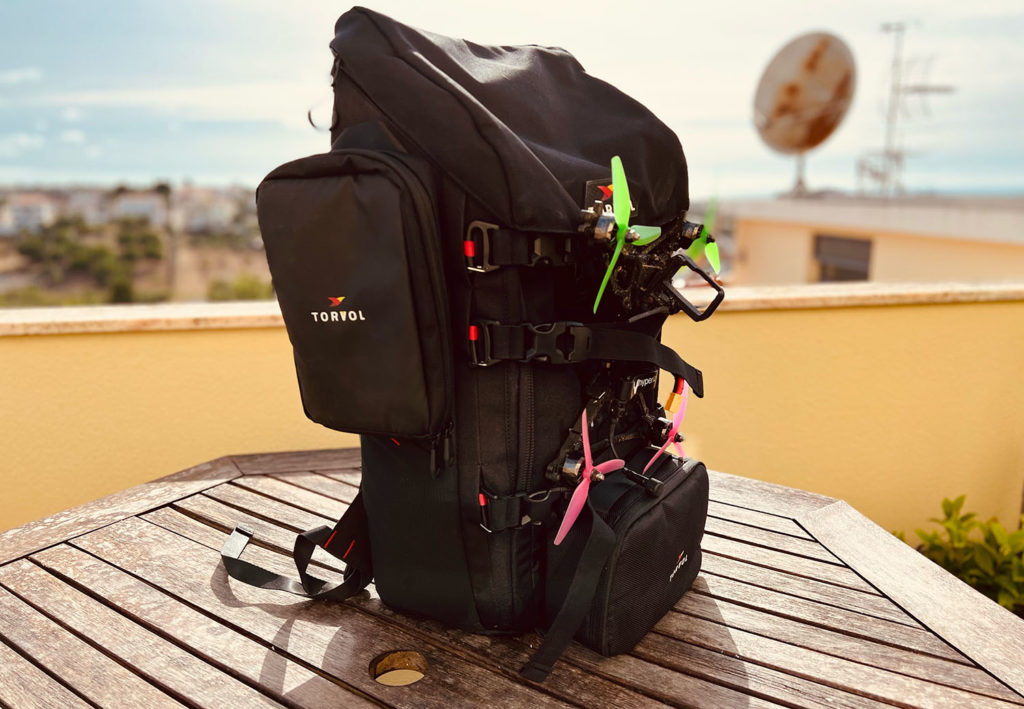 However I will say that this flexibility is best suited to those who do need the extra space from time to time, but not all of the time.
If you are a gear junkie and you want to haul a whole load more kit each time you fly, you might want to consider a larger bag.
The tool and accessory cases are clipped to the side of the backpack by means of two fairly sturdy fasteners.
However the lipo case uses velcro in the place of fasteners. At first I thought this a bad idea as the velcro does not feel as sturdy.
Then I realised it was genius, as it allows the lipo bag to be quickly ripped away from the main bag and discarded in the event of lipo failure.
This is evidence that the team who designed this bag have thought a lot about the minor details of the design of this bag.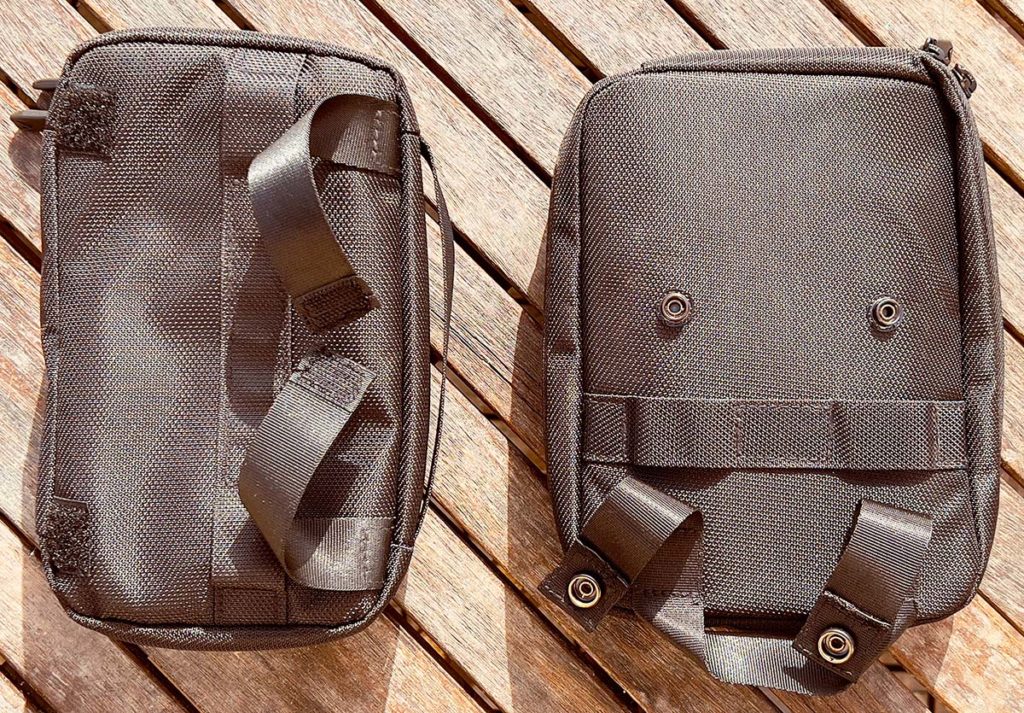 Pros and Cons
In this article we have looked at the Urban Carrier backpack under the microscope.
After putting this backpack through a whole series of real-world scenarios, I feel qualified to give my verdict on what is good about this backpack and what could be improved.
Here is my summary of the backpack's highlights and also things that could be improved:
Pros
Fantastic build quality and material feels of good quality.
Heavy duty zippers and good quality catches.
Clever internal design, features pocket accessible from outside via a zipper.
Removable internal storage allows the bag to be used for many different things.
A great backpack for general use, ideal if you need a one-for-all backpack and not just FPV.
Generously sized laptop pocket, close to the back and not at the front of the bag.
Top of the lid is stiffened, which has multiple benefits.
Cons
Light internal material looks great but I think it could easily become dirty / worn looking.
No storage in the bag strap which is accessible without removing the bag (eg. for mobile phone).
No dedicated area for the transmitter or built-in protection for the gimbals.
Chest strap cannot be removed should it not be required.
How Could We Make This Backpack Better?
Overall I am very happy with my Torvol Urban Carrier and believe it was the right choice for me.
There are not many areas where I could suggest improvements, which I expected with this price tag for a backpack.
Internal Material
I have mentioned the internal material several times. Personally I would have opted for a darker color as I believe it will stand the test of time better.
However I have not used the backpack long enough to say for sure, so time will tell!
Top Cover Strap
Something I have yet to mention is the piece of material that folds down over the top stiffened area of the backpack and sectures with the single main clip on the front.
Like all similar straps on backpacks, it the anchoring strap folds around a small loop so that the strap can be made shorter or longer, but is secure when put under tension (closed).
I find that this strap (and only this strap on the backpack) constantly slips and as such the top lid strap is usually always a little loose.
It seems to me that the strap material is a little silky and slippy. Perhaps a change of material could fix this issue.
This is more of a minor annoyance and does not seem to affect the lid staying closed.
Storage In Backpack Straps
This is somewhat of a personal annoyance for me and affects not just the Urban Carrier. However I will mention it here.
We live in the 21st century and we need constant access to our mobile phones.
Also if you are a little OCD + forgetful like I can be, you also have a need to constantly check you didn't lose your keys.
If I ever designed a backpack, the first thing I would do is put storage in the backpack straps for a phone, keys, money, passport, bus ticket and any other very valuable item or item needed regularly.
The Urban Carrier does have one saving grace here. It has a zipper pocket on the very top of the bag.
This is really great for storing a mobile phone or sunglasses for easy access whilst day tripping!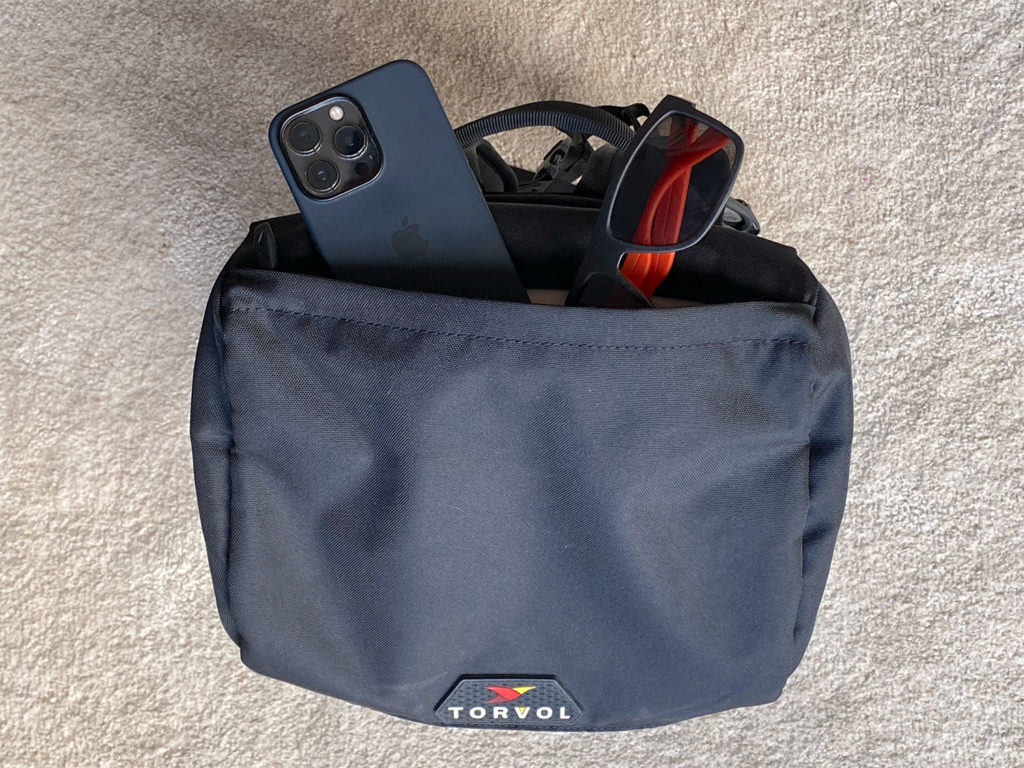 However it is still not accessible whilst you are wearing the bag, so although it alleviates this problem, it doesn't solve it entirely.
My solution to this has always been two bags. I wear a smaller 'man bag' on my front for such items.
However a far more slick solution would be to have this storage within the backpack straps.
Who Should Buy The Torvol Urban Carrier?
Personally I think the Torvol Urban Carrier is a truly great all-rounder. It could be suitable for beginners right the way through to advanced.
Beginners / New Pilots
For beginners the Urban Carrier makes a perfect backpack to store everything required for your first drone, whether that be a cinewhoop, freestyle or a racer.
You can use it to take your gear to the local park and you can also remove the interior and use it as a backpack for general use.
The only thing that might put off a beginner is the price tag, which is somewhat higher than a standard backpack.
Advanced Pilots
For advanced users this bag would also make a great choice due to its versatility.
You could safely store everything needed for a day of racing or filming, using the attachable accessory pouches if necessary.
However advanced users may prefer to opt for a totally dedicated bag such as the Pitstop Pro.
Intermediate Pilots
For Intermediate pilots I believe the Torvol Urban Carrier really shines! You can have the same benefits as owning the flagship offering, the Pitstop Pro.
However the backpack is also better suited for more general use. If you are going to spend this kind of money on a backpack and you are not a pro, it is great to have this feature.
Easily remove the internal storage and external accessory pouches and you have a great quality day tripping backpack!
Use the internal storage and accessory pouches and you have a fantastic drone carrier for every situation, from a day trip flying to carrying gear across different countries!
Where Can I Buy The Torvol Urban Carrier?
The Torvol Urban Carrier is available at many reputable retailers of FPV gear.
If you found this guide helpful and you want to purchase the Urban Carrier, using my affiliate link is a great way to say thank you.
It won't cost you anything, but I will receive a small commission for your purchase.
You can also check out this map on the Torvol website in order to find the closest retailer to you.
Either way thank you for visiting and reading this guide! I hope it was helpful. Don't forget to check out some other tutorials before those batteries have charged!